Have you ever been in a lull for months or even for years in the sex life with your love? Did you ask her whether feel bored or unsatisfied in the sexual life with you as a whole?
No one wants to admit that experiencing issues in the bedroom, it's so private to say out loud, especially when you are in a healthy and loving relationship. Of course, fidelity, trust, love, tolerance... these are what we need in a marriage or a relationship, however, it's common for couples to face sexual issues - the chances are slim to both partners that achieve orgasm during penetrative sex. Some surveys show that almost half of women are unhappy with orgasming through penetration from partner and the frequency of reaching orgasm.
It's been so difficult for the women to get orgasm
Physically, women need more time to be aroused and even longer to get orgasm. You should know that only around 30% of women (or lesser) can orgasm through penetration, most of them reach orgasm by stimulating clitoris. However, in a "male dominance" relationship, sex is always end by the ejaculation of men, and the women's pleasure and demands are so easy to be ignored.
And men's sexual stamina is also an important reason, even for the women that are able to get orgasm through penetration, they still need more time than men do. And for so many couples this seems unsolvable.
The passion between couples lasts shorter than you think  
How long does love last? The answer of the scientists could be less then 30 months, this is the period that the called "love hormone" lasts, which makes you believe that you are in love. So it's normal that some day the attraction between couples is gone. But there is still something that we can do, to keep the sex fun between you and your love, and bring the excitement back into bedroom.
That's why incorporating a sex toy into your sexual repertoire is definitely worth the investment, which helps the women achieve orgasm more easily and boost your bond with her in general. The sex toy now has been seen as a must-have for better sex and relationship for many couples, and this little but powerful prop allow the women to get the equal treatment that she deserves in the sexual life, efficiently. 
Surprising her with the romantic rose toy
How to choose a vibrator that can make her happy? Imagine that your lady find an extreme large vibrating dildo in the gift box, believe me, you don't want to turn that romantic moment to a relationship crisis. So, comparing with those sex toys of ice-cold high-tech design, what about giving her the rose toy? Which is with rose flower shaped design, the symbol of romance and love. This will be a smarter choice especially when your lady hasn't used a sex toy before.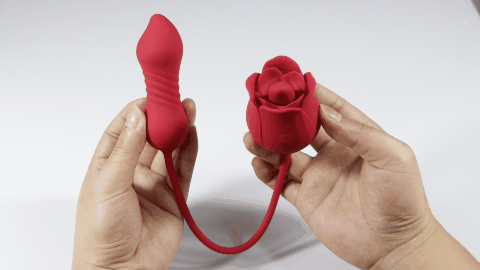 Rose Toy Gives Her the Safest Pleasure  
To buy a sex toy, the first thing you need to pay attention to is it's material. The Rose Toy is made of silicone - known as one of the safest sex toy material - is the nonporous material. Porous essentially means that there are microscopic holes in the toy (that you won't be able to see) that can trap bacteria and keep you from getting the toy fully clean. If you can't fully clean the toy, each time you use it, you could introduce bacteria to your bits, which could lead to infection. So avoid these porous materials: jelly latex, jelly-rubber, polyvinyl chloride (PVC), thermoplastic rubber (TPR) and thermoplastic elastomer (TPE).
Rose Toy whole series are all made of body-safe silicone + ABS, and for first-time sex toy users, silicone is absolutely the best choice. In addition to being completely body-safe, silicone transmits vibration really well, is super soft, and very easy to clean.
Read relative article: How to choose the right rose toy?
Rose Toy, Also the Couple Sex Toy
The rose toy can not only be the company of your love when you are not with her, but also can be the sweet prop to spice up the vibes during the sexy game between you and your love. You can find different designed of rose toys in our Rose Toy Official Store. The original rose vibrator, rose tongue vibrator, rose toy with dildo, rose toy with bullet... every different design fulfill the various couple sexy play. Also, the full body waterproof design of the rose toy allows you to have this it in the bathtub with your love.
Doubts about the Rose Toy
Well, the rose toy is obviously a smart option to let your female partner or both of you get the pleasure in an easier way, and to improve the relationship between you and her. However, we know that many people are still doubting about this kind of product, especially when you have never tried any before.
Read Relative Article: How dose the rose toy work?
What if the Rose Toy Makes my partner numbness?
The rose toy would not cause numbness, and we should use it properly
There should be no numbness issue when use the rose toy properly. We have 2 recommendations about using rose toy, if you are worried about it:
1.Using lubrication to decrease friction from the rose toy, will decrease her chances of going too hard for too long on your clitoris while masturbating or during sex.
2.Switching up positions more often, to change the hand placement, and the angle at which the rose toy is hitting the clitoris, this could help her avoid going numb.
3.Stimulating your partner by the rose toy and by yourself (mouth, hand, penis) alternately, and using the rose toy for shorter periods of time are great ways.
4.Starting from the low setting. Her body should get used to the stimulation first, and we should never go straight to the strongest setting.  Different people may experience different sexual sensation, because the nerve endings in the genital area get used to different vibration, some prefer fast and high vibration, while some enjoy soft and slower vibration. Luckily, Rose Toy has 10 different modes, so she can find the one that she like best.
5.You can also get more types of rose toys that realize different kind of stimulation. Such as suction rose toy, rose toy with tongue, rose dildo and multifunctional rose toys etc. Chaning the rose toy with different function and stimulation, will allow she to continue into her well-deserved orgasm.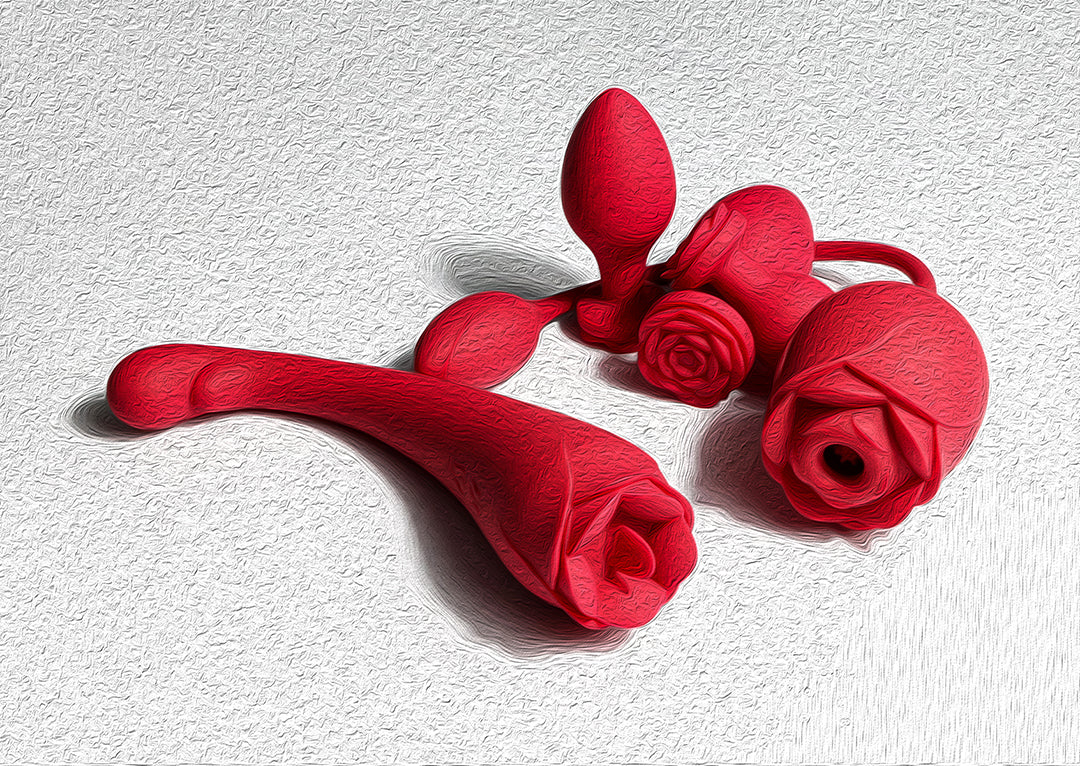 In facts, if you use it sex with her frequently, Her body will return to baseline a few minutes after each session or orgasm. Regular use of rose toy will not impact her ability to experience sexual pleasure.
Can my pregnant wife use the rose toy?
For most pregnancies, Rose Toy is safe, fun, and extremely pleasurable!
For a pregnant woman, Orgasms may be more powerful due to improved blood circulation in her body. In most cases, it is safe to use a rose toy during pregnancy (when it's stable). Actually it may even be good for her. using rose toy to reach orgasm could help improve your relationship, and the oxytocin (often called the "love hormone") - can trigger emotional thoughts, bonding, and maternal instincts - is released during orgasm, these feelings are essential for maintaining a healthy relationship both during pregnancy and after delivery.
An obstetrician and gynecologist said that "Any type of rose toy (either internal and external) can be used as long as your pregnancy is deemed low risk , but if your doctor has advised you against vaginal penetration for pregnancy complications that make penetrative sex unsafe. Fortunately, you can find the rose toys specially for the external stimulation in our store, can be a great alternative.
The 2 in 1 luxury rose clitoral vibrator. Its 3 level of intensity and 7 patterns of suction bring the all-inclusive happiness; the velvety tongue vibrator is equipped with the nimble tongue tip, providing the accurate stimulation, and 10 suction modes and 10 tongue licking modes provide endless play modes. You can switch to different intensities and find the perfect stimulation modes for her.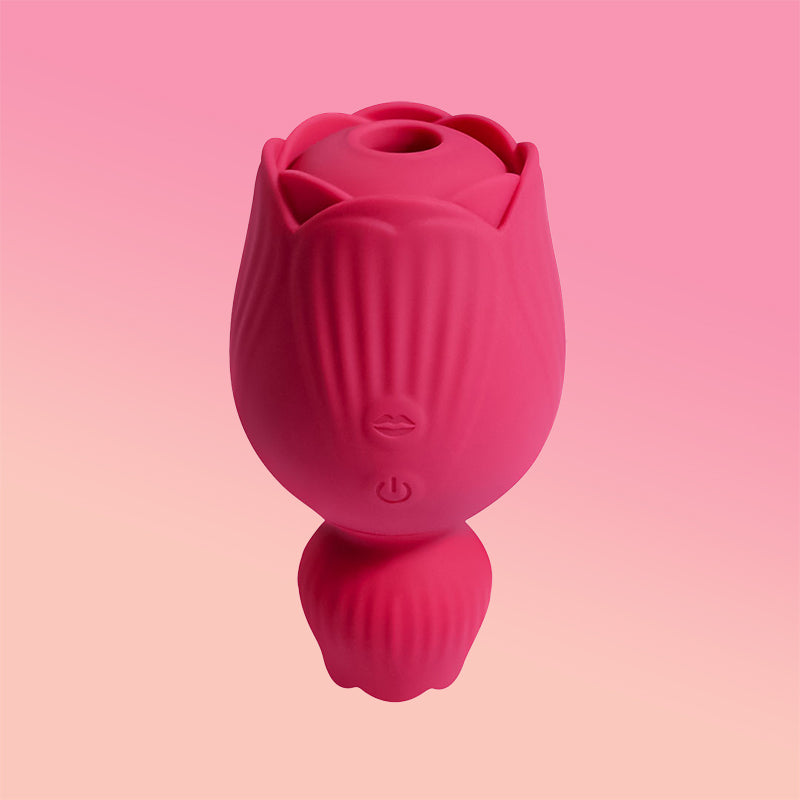 Will the rose toy causes infertility?
There is no scientific evidence to prove that using Rose Toy can cause infertility.
When it comes to rose toy and fertility, this is more than likely the most common myth. Many women stop using rose toy because they have heard that it can cause infertility. However, this absolutely not true.
A Director of Gynecology explained that using rose toy will not affect your chances of getting pregnant and it does not affect sperm count. The only relation to fertility people should pay attention to the sharing rose toys whether clean or not. Be sure to always keep them clean so that sexually transmitted infections, such as gonorrhea or chlamydia, are not passed. If these infections are left untreated, then that can cause infertility.
To be sure, you can use a condom on rose toys and follow the cleaning instructions before they are used with sex partners. Otherwise, you have nothing to worry about when it comes to fertility and rose toy using.
I don't want the rose toy takes place of me
You are irreplaceable in your relationship also in the sexual love between you and your love
A big part of the men find it hard to accept that their partner are pleased and satisfied by a toy, it hurts their feeling in some way. Well, gentlemen, first of all this is about making your lady feel good, but not a competition between you and the rose toy. Also, your partner will not abandon you just because the rose toy makes her feel good. You should always keep this in mind, sex is only a part of your relationship, and the orgasm is not the only destiny of sex. The love you give her is irreplaceable. The rose toy will only make your love better, but will not make you look bad.
Conclusion
If you're still on the fence about incorporating Rose Toy into your sex life with your love,here's a stat that just might change your mind: the SKYN survey found that 95 percent of those who use rose toy Satisfy all orgasm fantasies with her partner.
Couples will likely experience chapters of boredom in their relationship,You need to continue to invest energy and enthusiasm into your relationship in order to feel passionate and connected, rather than simply waiting to feel excited. So incorporating Rose Toy into sex as a sign and make some changes.